Translator Group Buying (TGB) Program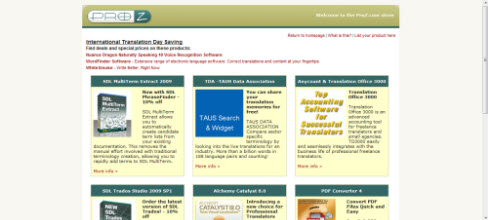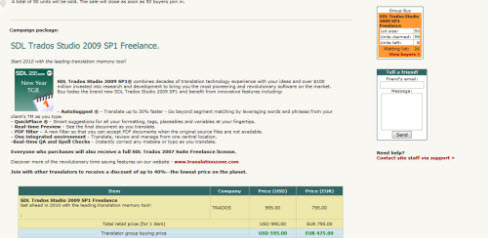 http://www.proz.com/tgb

ProZ.com offers vendor partners the opportunity to sell products through ProZ.com channels. ProZ.com is the # 1 reseller for SDL Trados, Wordfast and other translation industry products.

Group buy program requires reseller agreement including either a commission per sale or a bulk buy discount. ProZ.com group buy program requires vendor to guarantee ProZ.com users the lowest price publically available.

ProZ.com can handle all promotion, payment processing, and license distribution/activation for product resale. Vendor partners receive top level exposure and branding.

ProZ.com will promote sale through:
Home page exposure
Targeted and dedicated banner ads (i.e. display ads to users that do not already have product advertised)
Email notification to interested buyers
ProZ.com may at their discretion provide TGB participants with additional ProZ.com membership benefit as incentive to participate in TGB sales
ProZ.com can handle all e-commerce and sales if required
ProZ.com store
http://www.proz.com/shop
The ProZ.com store offers vendor partners with an easy low cost direct sales channel. ProZ.com can handle all promotion, marketing and payment processing.
Call for details